! > <! Created 4/95 by Grant Yoshimori > <! > <! Read the Page Sections and Descriptions >
Green Wing Macaw (Ara chloroptera)
---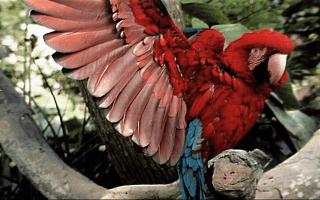 Picture courtesy of Up At Six Aviaries
---
Green Wing Macaw Description
Physical Description

Face and plumage is a bright red. Like many macaws, the Green-wing has the whitish skin face mask. The wing has a green color

Length

36 Inches (Larger bird)

Ave. Lifespan

Sexing

Undeterminable by appearance, though hens may have a slimmer head.

Origin:

Central America to South America

Trainability

Requires much attention, can be trained to talk - but not considered very good mimics. Requires large space due to large size. Are very demanding and have a tendency to become agressive or pluck.

Loudness

Can be loud.

Pricing

?
---
Green Wing Macaw Books for Sale from
Related Goodies from
<! --- INSERT AMAZON SEARCH --> <! --- END INSERT AMAZON SEARCH -->
---
Back to :The Pet Bird Page


Updated : 10/2022
(c) 1994-2022 Grant Yoshimori