! > <! Created 4/95 by Grant Yoshimori > <! > <! Read the Page Sections and Descriptions >
Mollucan (Cacatua moluccensis)
---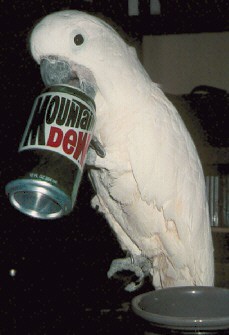 Charlie the Moluccan (Owner: T.J. Miles)
---
Mollucan Description
Physical Description

Large white bird with a pinkish tinge in their feathers. The Moluccan has the definitive cockatoo crest - the crest is a deep pink color.

Length

20 Inches

Ave. Lifespan

Sexing

The female cockatoos has a dark reddish brown eye, and is usually less pink.

Origin:

Found on the Moluccan islands of Indonesia

Trainability

The Moluccan becomes very affectionate after a short time. They are known to be good talkers.

Loudness

Has a very loud call.

Pricing

Prices usually $1800 - $2300.
---
Mollucan Books for Sale from
Related Goodies from
<! --- INSERT AMAZON SEARCH --> <! --- END INSERT AMAZON SEARCH -->
---
Back to :The Pet Bird Page


Updated : 10/2022
(c) 1994-2022 Grant Yoshimori