! > <! Created 4/95 by Grant Yoshimori > <! > <! Read the Page Sections and Descriptions >
Peach Face Lovebird (Agapornis roseicollis)
---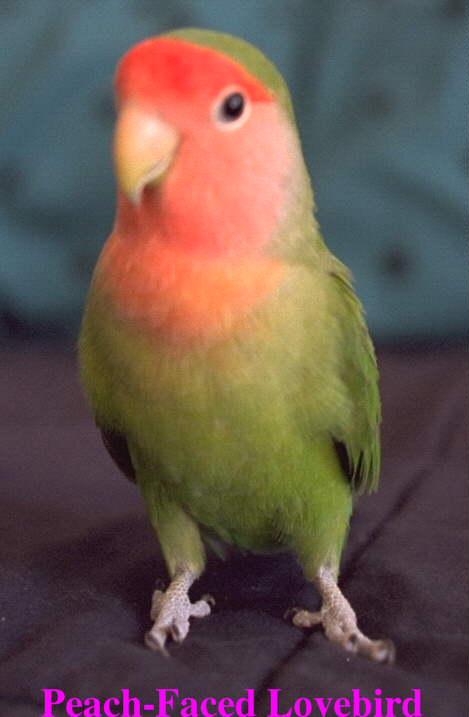 Tasha the Lovebird. Owner: Charles J. Brabec
---
Peach Face Lovebird Description
Physical Description

In the opinion of the author, one of the most beautiful birds. The bird is a light green, with a brilliant light-red face. The eyes are surrounded by a light white ring.

Length

6 Inches (larger than a Budgie, but has a short tail)

Ave. Lifespan

15-30 years

Sexing

Undeterminable by appearance.

Origin:

Originally from Africa & Madagascar.

Trainability

The love bird has a high shrill call, and may 'call' often. As with most birds, if gotten while young, can be a very affectionate. Can be trained to talk.

Loudness

Not very loud, but voice is high and bird calls often.

Pricing

Prices usually fall under $50.
---
Peach Face Lovebird Books for Sale from
Related Goodies from
<! --- INSERT AMAZON SEARCH --> <! --- END INSERT AMAZON SEARCH -->
---
Back to :The Pet Bird Page


Updated : 10/2022
(c) 1994-2022 Grant Yoshimori