! > <! Created 4/95 by Grant Yoshimori > <! > <! Read the Page Sections and Descriptions >
Yellow Naped Amazon (Amazona auropalliata)
---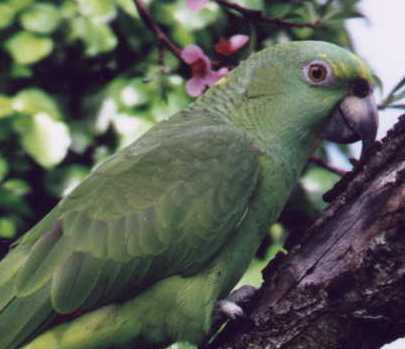 Mackenzie (Owner Elisabeth DeSimone)

Thanks to Elisabeth DeSimone for writing this page
---
Yellow Naped Amazon Description
Physical Description

Green. Yellow on nape- amount is highly variable. Some birds have no yellow feathers at all on the nape. Bend of wing is green. Wing speculum is red with some blue. Secondary coverts pale yellow on wing edge. Beak dark grey. Cere black, grey eye ring, orange eyes. Legs light grey. The parvipes subspecies is slightly smaller in size, has red on bend of wing, beak is paler, and often has yellow spot on crown. Immature birds have little or no yellow on nape and a dark iris.

Length

Ave. Lifespan

Sexing

Undeterminable by appearance. DNA or surgical sexing is the only way to know with certainty.

Origin:

From southern Mexico, along Pacific slope through Guatemala, El Salvador, Honduras, and Nicaragua to northwestern Costa Rica.

Trainability

The Yellow-nape is rated as one of the top three talking birds. They have very clear voices and learn new words easily. They are also good at singing, laughing and whistling. These birds are extremely loving and loyal for the experienced bird owner who can read Amazon body language. Males (and some females) often become over-excited during the breeding season, and they require careful handling at this time.

Loudness

Variable with training. Most well-trained birds have their morning and evening "jungle calls," but are quiet during the day, prefering to talk and sing.

Pricing

about $800-$1,100 from a breeder; $1,100-$1,500 from a pet shop.
---
Yellow Naped Amazon Books for Sale from
Related Goodies from
<! --- INSERT AMAZON SEARCH --> <! --- END INSERT AMAZON SEARCH -->
---
Back to :The Pet Bird Page


Updated : 10/2022
(c) 1994-2022 Grant Yoshimori